When I first told a friend that I had started working for the Aurora Public Library District, she asked if I had seen "The Ghost." Ghost? What ghost? I have volunteered for several years at Aurora's own Hillforest Victorian House Museum, so I feel I am no stranger to talk of ghosts! But, I have yet to encounter a library ghost. So, to find out just who might want to haunt the library property, I asked our Local History Librarian, Roy Lambert.
Roy told me that as a youth growing up in Aurora, he often heard stories of the ghosts in the Library.  In 1913, the Siemental Property on Second Street was purchased with monies of Georgiana Sutton in memory of her parents, Dr. and Mrs. George Sutton, and construction of the new library commenced. Originally, the basement was mostly a storage area, not open to the public, as it is now. This dark solitary basement, mostly off limits to the public, increased the possibility of ghosts. According to Roy, an archaeological publication states there was a large Indian mound in downtown Aurora that was partially destroyed when the streets were originally graded. The only mounded area in the historic district of Aurora is the mound that our library now occupies. Dr. George Sutton, Aurora's revered early physician and amateur relic hunter had accumulated a vast collection of Indian artifacts and most likely some bones. These were eventually stored in the library basement. Indian bones were also found when grading was done on Mechanic Street many years ago.
In 1937, the Ohio river flood was nearing the library and all the contents of the lower level were removed for safe keeping, including the collection of Dr. Sutton. This collection, however, was never, never seen again–no one knows what happened to the collection. In 2015, a paranormal group did some investigating after hours at the Library. They detected possible spirit presence, as if trying to contact the investigating group, in the basement area were the artifact collection had been stored many years ago.
Incidentally, Roy mentioned that the door to the Local History Library (The Depot) opens quite often for no apparent reason. Also, when opening the upper level doors to the Aurora Public Library building, one door opens eerily by itself when the other is opened. Coincidence?  Are there spirits living in the Library? Anywhere in Aurora?
If you are interested in paranormal activity, there are several books you may find interesting:
Hoosier Folk Legends, by Ronald L. Blake, gathers Indiana legends about premonitions, death, ghosts, haunted houses, special powers, witches, monsters, famous people, local heroes, outlaws, bottomless lakes, and local place names.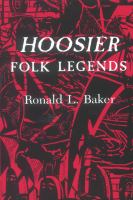 "If there's something strange in your neighborhood, something weird that don't look good," who would you call?  Residents of southern Indiana and Kentucky know the answer—SIGH, Southern Indiana Ghost Hunters—that's who! Inside Southern Indiana Ghost Hunters Chronicles by C.C. Thomas, you can read the weird, the strange, and the downright spooky. This is not your normal ghost story book, though. Each case is approached scientifically and you are given a final analysis of whether or not ghosts actually exist.
Although these tales are not from our own backyard, Seeking Spirits, by TV's popular Ghost Hunters Jason Hawes and Grant Wilson, reveals all-new, never-before-told stories from their spooky early investigations. They also offer essential tips for budding paranormal investigators — including how to use an electromagnetic field (EMF) meter and an infrared camera, determine if a supernatural phenomenon is good or evil, and deal with spirits. Whether you're a skeptic or a believer, these fascinating and frightening true stories will keep you up at night!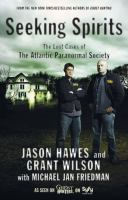 Additionally, on Thursday, October 26 at 7:00 p.m., AURORA MAIN STREET is hosting the Aurora Ghost Tour, where eerie tales will be told while strolling through the historic downtown, a tour of Hillforest, witches brew and treats. Who knows who (or what) you might run into!! Perhaps, you'll encounter the Library spirit!