Fall is my most favorite time of the year. With the days getting shorter and the temperature getting cooler, there is nothing better than curling up with a good book. The changing colors of the leaves, pumpkin spice lattes, Halloween and Thanksgiving are things that embody fall. My favorite genre to read during this time is mystery/thriller with a little bit of science fiction. Here are some of my recommendations!
Classic monsters are everywhere during Halloween. Frankenstein is a classic monster but what if the image of Frankenstein was different that what you have been told? Published in 1818, Frankenstein, or The Modern Prometheus follows Victor Frankenstein as he defies the laws of nature and assemble body parts together to make a monster. This is my all time favorite book. At only 200 pages, this is a quick read and is a great start for those who want to read more classics. Mary Shelley's writing is simplistic and beautiful and she wrote this novel when she was only 18. She is also one of the pioneers of science fiction/horror. Once your finished, watch the 1931 Frankenstein film, starring Boris Karloff and you will be amazed at how many changes there are.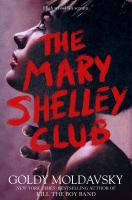 The Mary Shelley Club – Goldy Moldavsky
This was a recent read for me. Being a big fan of Mary Shelley and Frankenstein, I went into this one with pretty high expectations and I was not disappointed. I found this to be a very enjoyable, fast paced read, and I read it in two days. This follows a girl named Rachel Chavez. She loves horror movies and they help her cope with things that she does not wish to remember. She is recruited by the mysterious Mary Shelley Club. This club does very elaborate pranks or what they call "Fear Tests". Whoever has the scariest prank wins. The pranks escalate into something more deadly.  Think of this one as Gossip Girl meets Scream and I think that this one is perfect for the fall and spooky season.
Truly Devious – Maureen Johnson
I am a sucker for a private school mystery. This story follows a girl named Stevie Bell, who is invited to be apart of Ellingham Academy. The academy was founded by Albert Ellingham, who wanted to make the school a place for bright thinkers, artists and inventors. When his wife and his daughter go missing, the only clue is a letter signed by "Truly Devious", a mocking riddle that lists different methods of murder. Stevie's first year at Ellingham starts with one goal in mind, to solve the cold case. This is the first book in this series, the following books continue Stevie's story. This is a great mystery for Halloween. The other books in the series are The Vanishing Stair, The Hand on the Wall and The Box in the Woods.