Our minds need enrichment, and I feed mine every time I pick up a book. But lately, I've been able to build up more than my mind with my book selections. My latest craze has been choosing different book series' dealing with food. My selections have been providing entertaining stories with the added benefit of quite an array of new recipes and dishes to try. Who knew that an enjoyable fiction title would also increase my cooking repertoire!
My most recent obsession has been the Seasons of the Heart series by Charlotte Hubbard, set in the Amish river town of Willow Ridge, Missouri. The Sweet Seasons Bakery Café, run by Miriam Lantz with her twin daughters, Rachel and Rhonda, is at the center of this light romance series. At the end of each title are recipes for the tasty treats served up at the Amish cafe. Cinnamon rolls are my favorite treat and there is a recipe for the rolls Miriam serves her customers, made with a boxed cake mix starter!
If mysteries are more to your taste, why not try the "cozy" crime series by Joanne Fluke, featuring Hannah Swenson. Hannah returns to her hometown of Lake Eden, MN after her father's death, opens a bakery/cafe, the Cookie Jar, and soon becomes an amateur detective sleuthing out murders. Of course, delectable dessert recipes are a welcome addition to each title.
Another author, Diane Mott Davidson, is known for the humor, quirky characters, and small town feeling of her cozy culinary mysteries. Caterer Goldy Bear is a smart heroine, whose ability to juggle her work and personal life (as well as murder investigations) makes her very appealing to readers. Using the process of cooking as a counterpoint, Davidson sets up a clever mystery and leaves clues.
If you're more interested in looking for recipes, without reading a whole book, we even have cookbook collections from many authors. The Cozy Cookbook serves up mouth-watering appetizers, entrees, and desserts from some of the most popular names in crime solving.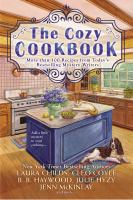 The Lake Eden Cookbook collects recipes, some previously published in the author's mystery series starring Hannah Swensen, and includes a story, interspersed throughout the recipes, of the annual holiday cookie exchange in Lake Eden.
Miriam's Cookbook by Carrie Bender is a collection of recipes interspersed with quotes from her books in the Miriam's Journal and Whispering Brook Series. Here you find food for the body and soul.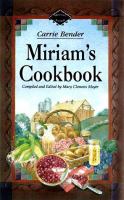 I hope you find a great recipe that you'd like to try from one of the many "books that cook!"