In the fall of 1997, Sue Ellen Cooper, an artist from Fullerton, California, purchased an old red fedora for $7.50 from a thrift shop during a trip to Tucson, Arizona. When a good friend was nearing a 55th birthday, Cooper cast about for an idea for an original gift. Inspired by a well-known Jenny Joseph poem, Warning, which begins "When I am an old woman, I shall wear purple, with a red hat which doesn't go and doesn't suit me. " Cooper wanted to encourage her friend to grow older in a playful manner. She gave her friend a red hat of her own suggesting that she keep it as a reminder to grow older playfully and on her terms.
The symbolism behind the red hat had an impact on women Cooper encountered. Those women responded by wearing their own red hats and entering a new women's movement that embraced a renewed outlook on life filled with fun and friendship, fulfilling lifelong dreams.
Cooper repeated the gift on request several times, and eventually several of the women bought purple outfits and held a tea party on April 25, 1998. The Red Hat Society was born.
The Aurora Public Library has two of Sue Ellen Cooper's books," The Red Hat Society Fun and Friendship After Fifty" and "The Red Hat Society's Laugh Lines" which I am reading now. Let me tell you what a laugh you will get out of this book. I read parts to my husband and he said it was the biggest laugh he has gotten for awhile. Now I could share some of the stories but take my word you will just have to pick up the book and read for yourself.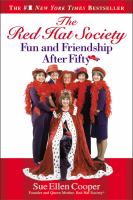 This is the poem that inspired the books.
Warning
When I am an old woman I shall wear purple
With a red hat which doesn't go, and doesn't suit me.
And I shall spend my pension on brandy and summer gloves
And satin sandals, and say we've no money for butter.
I shall sit down on the pavement when I'm tired
And gobble up samples in shops and press alarm bells
And run my stick along the public railings
And make up for the sobriety of my youth.
I shall go out in my slippers in the rain
And pick flowers in other people's gardens
And learn to spit.
You can wear terrible shirts and grow more fat
And eat three pounds of sausages at a go
Or only bread and pickle for a week
And hoard pens and pencils and beermats and things in boxes.
But now we must have clothes that keep us dry
And pay our rent and not swear in the street
And set a good example for the children.
We must have friends to dinner and read the papers.
But maybe I ought to practice a little now?
So people who know me are not too shocked and surprised
When suddenly I am old, and start to wear purple.
Jenny Joseph